What blockbusters are coming out in April 2023? With Kisi Ka Bhai Kisi Ki Jaan, Salman Khan stars in the biggest release in Bollywood cinema this month. In this action-packed film, he plays a self-appointed vigilante who wants to clean up the city of crime. It is a remake of the 2014 Tamil film Veeram and is being directed by Farhad Samji (Pop Kaun). It is scheduled to hit theaters with the upcoming movies on April 2023.
On the Hollywood side, The Super Mario Bros. Movie has garnered a lot of attention due to criticism that Chris Pratt's voice isn't sufficiently high-pitched or Italian. Aaron Horvath and Michael Jelenic, the film's directors (Teen Titans Go!) have frequently defended their choice of voice actors, saying that it "made total sense" given the new Mario origin tale they created for the film.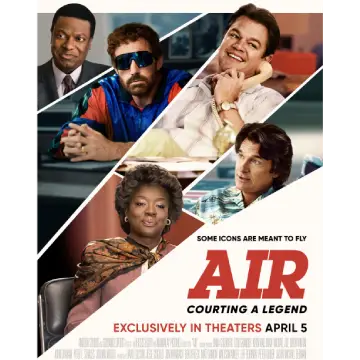 Air
A maverick CEO named Sonny Vaccaro (Matt Damon) stepped up in 1984, a year marked by poor sales and growth numbers for Nike, to recruit then-rookie Michael Jordan to a footwear deal and, perhaps, turn around his struggling basketball business to new heights. The film Air, directed by Ben Affleck, provides a behind-the-scenes look at this developing relationship, helped by Michael Jordan's encouraging mother Deloris Jordan (Viola Davis), who had faith in his abilities and would go on to become one of the greatest basketball players in history. Affleck also plays Phil Knight, co-founder of Nike, in the movie. Phil Knight frequently challenges and criticizes Vaccaro's decisions while also being humbled and reminded of the risks he made before becoming a corporate mogul.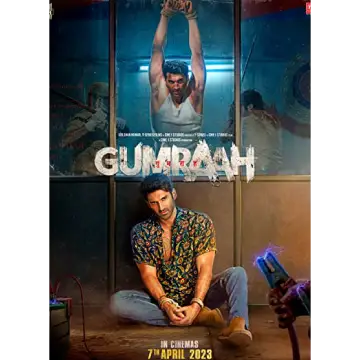 Gumraah
This Hindi-language adaptation of the 2019 Tamil murder thriller Thadam stars Aditya Roy Kapur (The Night Manager), who plays two roles. When Inspector Shivani Mathur (Mrunal Thakur) learns that her top suspect has a doppelganger but none of them is aware of the other's existence, she is in serious difficulty during a murder investigation. In the original movie, one of them is a kind civil engineer who is enjoying life as a young adult, while the lookalike is a robber who likes to gamble and is skilled in con artists with his sidekick. Gumraah, from a story co-written by Aseem Arora (Dehraadun Diary) and Magizh Thirumeni, is Vardhan Ketkar's feature film debut.
The Pope's Exorcist
A campy exorcist movie is always a good choice during the summer, and the sensation is enhanced when it is based on fact. The new Julius Avery supernatural horror movie is a variation on the humans vs. demons theme and is based on the actual files of Father Gabriele Amorth, the former Chief Exorcist of the Vatican who carried out over 100,000 exorcisms in his career. In it, Amorth (Russell Crowe) is given the responsibility of evaluating a youngster who is possessed and assimilating sensible concepts while supposing that his client is simply mentally ill. Amorth embarks on an Indiana Jones-like excavation quest into the church's different secret tombs and corridors as he searches for the demon's roots and discovers a centuries-old plot that the Vatican attempted to keep secret.
The Super Mario Bros.
The Last of Us season 1 finale on HBO has an additional treat in store for gamers in April. It's difficult to deny the cultural impact of the phrase "It's-a-me, Mario," which gave rise to a line of video games featuring an Italian plumber who tramples Koopas and warps tunnels. The Super Mario Bros. Movie is a somewhat original narrative about two blue-collar immigrant plumbers in Brooklyn, New York, who were warped into the colorful Mushroom Kingdom from Illumination Entertainment, the company behind the acclaimed Despicable Me movie. The obnoxious Bowser (Jack Black), who is on the hunt for Super Stars and is guiding his floating, magma-fueled island toward the kingdom, is hot on their heels.
Renfield
It's always fun to see Nicolas Cage act melodramatically and experience a full-blown breakdown, and this time, he does it as Dracula, the eternal boss from hell. Renfield (Nicholas Hoult), the loyal servant, is sick and weary of his century-long service to the vampire king and wants to leave their poisonous relationship and start a new, "normal" life in contemporary New Orleans. Renfield was given magical abilities by Dracula, who is also able to manipulate and abuse him into obedience, thus leaving isn't as easy as simply quitting his position. After all, he is the dark lord.
Conclusion:
Similar to last month, April is likewise quiet in the OTT space, with one notable release being Amazon Prime Video's Air, a biopic that traces the history of Nike's Air Jordan shoe line. For your convenience, we've compiled the most anticipated films that will be in cinemas in April 2023 on Amazon Prime Video, Apple TV+, and Disney+ Hotstar, which you can view above. For more information about additional titles that might be of interest to you, feel free to visit our Entertainment hub.