Don't skip these tips, this can really be your life-savior!
As the summer heat reaches its peak, many of us are eager to take advantage of the warm weather by engaging in outdoor activities like running, cycling, hiking, or simply spending time in the sun. However, it's essential to be mindful of the potential dangers of exercising in hot weather. Heat exhaustion and heat stroke are real risks, and taking precautions to protect your health is crucial. In this article, we will provide you with valuable tips to stay safe and cool while enjoying your outdoor workouts this summer.
Prioritize Hydration with Electrolytes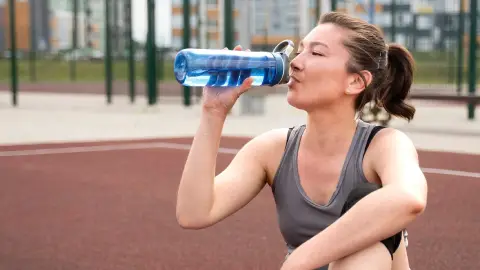 It may sound obvious, but staying hydrated is the most critical factor in ensuring a safe outdoor workout in the heat. When you exercise, your core temperature rises, and sweating is your body's natural cooling mechanism. To support this process and replenish the minerals lost through sweat, it's essential to drink plenty of water. However, for more intense activities or when the heat is excessive, water alone may not be sufficient.
Consider infusing your water with electrolytes or opting for a sports drink. Electrolytes help maintain the body's balance of essential minerals like sodium, potassium, and magnesium. Joy Puleo, a certified personal trainer and Balanced Body education program manager, emphasizes the importance of electrolytes in hot and humid weather, where the body's natural cooling mechanism may not work efficiently.
Aim to hydrate well the day before engaging in vigorous activities, such as running, and continue sipping water with added electrolytes up to 30 minutes before your workout. While you're outdoors, carry water with electrolytes and bring some money in case you need to refill along the way.
Dress Smartly for the Heat
When it comes to dressing for outdoor workouts in the summer, proper clothing choice can make a significant difference in keeping you cool and comfortable. Opt for lightweight, moisture-wicking, and breathable materials, such as synthetic fabrics like nylon. These materials allow better airflow and help wick away sweat, preventing overheating and discomfort.
Wear light-colored clothing as dark colors tend to retain heat, which can make you feel even hotter. Consider wearing a lightweight hat to protect your face from direct sun exposure, and don't forget to put on sunglasses to shield your eyes from harmful UV rays.
Chafing is a common concern during the summer when the skin is more prone to rubbing against clothing. To prevent chafing, apply petroleum jelly, a specialized balm like Body Glide, or even popular drugstore moisturizers like Aquaphor or Cerave to areas prone to friction.
Choose the Right Time for Outdoor Workouts
The timing of your outdoor workout can significantly impact your safety and performance. Avoid exercising outdoors during the hottest part of the day, typically between 10 a.m. and 3 p.m., when the sun's rays are most intense. Instead, opt for early morning or late evening hours when the temperatures are lower, and the risk of heat exhaustion is reduced.
Daniel Maman, a personal trainer at My Phenom Fitness, advises staying indoors or engaging in less strenuous activities during peak hours. However, if you must be outside during this time, take the necessary precautions to protect yourself from the heat.
Gradually Acclimate to the Heat
If you anticipate exercising outdoors during the hottest hours of the day, it's essential to prepare your body for the increased heat exposure gradually. Mario Musa, a certified tennis instructor, recommends acclimating yourself to higher temperatures by gradually increasing your time outdoors over several days. This process allows your body to adapt to the hotter conditions more effectively.
During the acclimation period, pay close attention to how your body responds to the heat and adjust your workout intensity accordingly. If you feel any signs of discomfort or heat-related illness, such as dizziness or fatigue, take it as a sign to scale back your activity.
Protect Your Skin with Sunscreen
Regardless of the time of day, sunscreen is a non-negotiable essential for outdoor workouts. Choose a sunscreen with an SPF of 30 or higher that provides broad-spectrum protection against both UVA and UVB rays. Proper sun protection is essential to shield your skin from harmful sunburns and reduce the risk of skin cancer.
Apply sunscreen generously to all exposed areas of your body before heading out, and remember to reapply every two hours or more frequently if you are sweating excessively. If you're unsure about which sunscreen to choose, websites like CNET provide lists of the best sunscreens available on the market.
Recognize the Signs of Heat Exhaustion
It's crucial to be aware of the signs of heat-related illnesses, such as heat exhaustion and heat stroke. Heat exhaustion can occur when your body overheats due to prolonged exposure to high temperatures and dehydration. Recognizing the early symptoms of heat exhaustion can help you take immediate action and prevent the condition from escalating to heat stroke, a severe and potentially life-threatening condition.
Common symptoms of heat exhaustion include heavy sweating, a fast and weak pulse, nausea or vomiting, muscle cramps, dizziness, tiredness or weakness, headache, and fainting. If you experience any of these symptoms, it's essential to take immediate steps to cool down.
Stay Cool and Comfortable
To ensure a safe and enjoyable outdoor workout during hot summer days, it's essential to focus on staying cool and comfortable throughout your activity. Seek shade whenever possible, especially during breaks, and use cooling towels or misting sprays to help lower your body temperature.
Listen to your body and pay attention to any signs of distress or fatigue. If you start feeling unwell or experience symptoms of heat exhaustion, stop exercising immediately and find a cool place to rest. Always carry ample water with you and take regular breaks to rehydrate and cool down.
Conclusion
As the summer temperatures soar, you can still enjoy your outdoor workouts safely by implementing these heat-proofing tricks. Hydration with electrolytes, appropriate clothing choices, exercising during cooler hours, acclimating to the heat, and practicing sun protection are all essential aspects of a safe outdoor workout regimen. Remember to pay attention to your body's signals and never push yourself beyond your limits in extreme heat conditions. By taking these precautions, you can make the most of your summer workouts while safeguarding your health and well-being. Stay cool, stay safe, and have a fantastic summer of fitness!