Over time, Delhi, the capital of India, has grown to be a popular travel destination. The location has a rich history, which is one of the main reasons why so many people travel there. India's heart is there. Being a large city, there are many alternatives available, ranging from malls, galleries, and retail markets to museums and monuments. The city is largely made up of forts and monuments, combining historical and contemporary elements. There are other forts, including Red Fort, Humayun's Tomb, Qutub Minar, etc., that eloquently illustrate the historical past of our nation. The enormous Red Fort in Delhi is composed of red sandstone and has a long history.
Here is our helpful guide to provide you with more information about this amazing landmark.
Red Fort Background
Red Fort has a long history dating back to 1638. When Shah Jahan decided to move his capital from Agra to Delhi, he constructed it. It was governed by the Mughal Empire for around 200 years until being taken over by the British. It is also known as Lal Quila. The final Mughal Emperor, Bahadur Shah Zafar, was crowned here in 1837.
The Red Fort has played a significant role in Indian history. When India gained its independence, the National Flag of India was raised atop this fort. It is still raised annually at the same location by the Prime Minister of India.
Optimal Period to Visit Red Fort
The best time to visit Delhi's Red Fort is during the winter, between November and March. You will be spared from Delhi's heat during these months since they are cooler.
You may travel to Delhi during April and May if you want to do so on a budget. But be cautious to take precautions against Delhi's heat waves.
Red Fort Architecture
The Red Fort is a magnificently constructed structure that is shaped like a parallelogram. It has walls that face Chandni Chowk and the Yamuna. Lahori Gate is one of the key entrances here. At the moment of independence, the Indian Flag was raised over that specific gate. The fort also has other significant structures. Some examples include Diwan-i-Aam and Diwan-i-Khas. The stunning Mughal culture is reflected in the Red Fort's architecture.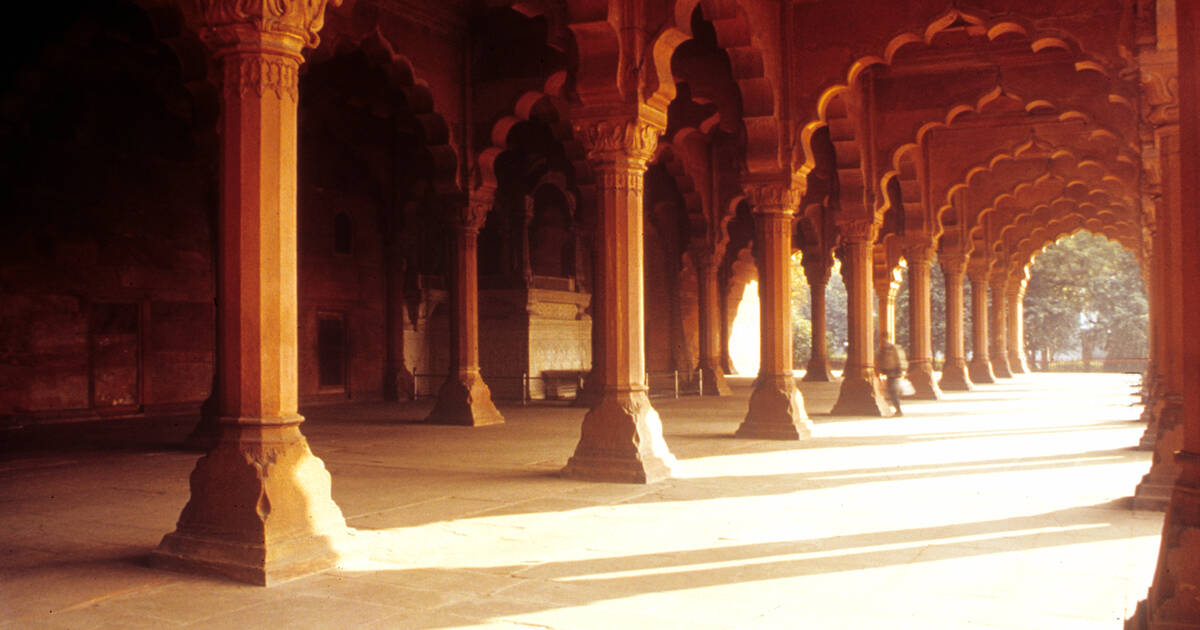 Facts Worth Knowing About Red Fort
Every monument contains some fascinating information about its past and present. A few intriguing Red fort-related facts are as follows:
Long Construction Time. The Red Fort was built over a long period of 10 years, or ten years. This impressive fort was built by two well-known architects from the time, Ustad Hamid and Ustad Ahmed!
Building's original color. Due to the fort's construction using white sandstone, its original color was white. The red color is credited to the British, according to popular belief!
Name Change. "Qila-e-Mubarak," which translates to "The Blessed Fort," was the fort's original name. When Shahjahan chose to move his capital to Delhi, he decided to build this fort.
Kohinoor Diamond. The renowned Kohinoor Diamond, today a priceless item in the British Museum in England, was once a piece of Shah Jahan's regal throne in Diwan-i-Khas at Red Fort.
The Lahore Gate. Because India and Pakistan were one country at the time, the Lahore Gate at the Red Fort, where the Tricolor is flown on Independence Day, actually opens toward Lahore in Pakistan.
Shaped like a parallelogram. The fort is octagonal in design and covers 256 acres of land when viewed from above. Visitors may be transported back in time to the past, when the fort experienced the bustle of darbaris and the general public, by the great expanse and the serene setting.
Tall Walls The fort's walls are of different heights. While the city side's walls are 33 meters high, the riverside's fortifications are just 18 meters high.
Historical Relationship. Bahadur Shah Zafar, the last Mughal Emperor of India, was tried by the British for treason at his residence, the Red Fort, and after being found guilty, he lost his throne and was banished.