Hindus frequently make light of and joke about Sri Krishna's large number of wives. Do you know the actual background of it? That we have never made an effort to go deeply into the original Bhagavata Purana and learn the true account of Shri Krishna's life is so pitiful. Socialists have frequently spread a false and deceptive narrative that is entirely untrue.
Hindus venerate Lord Krishna, a well-known god, as a representation of love, intelligence, and divinity. He is renowned for his cunning, bravery, and Dharma teachings, which still serve as an example to people today.
The fact that Lord Krishna had 16108 wives during his lifetime is one of the things about his life that has sparked the most interest and controversy. Let's investigate the tale to comprehend it better.
As the Yadava people had no kings, according to ancient texts, Lord Krishna oversaw the Yadava clan in Dwarka. Lord Krishna only had eight wives at that time, according to the Bhagavata Purana, and they were Rukmini, Satyabhama, Jambavati, Kalindi, Mitravinda, Nagnajiti, Bhadra, and Lakshmana.
Now, according to mythological legends, Pragjyotishpur was once ruled by an extraordinarily powerful asura king by the name of Naraka. He was the child of the earth goddess Bhudevi and Lord Vishnu's incarnation Varaha.
Despite having divine genes, Narakasura was an Asura, and Lord Vishnu's blessing to Bhudevi for her son gave him great power. He met Banasura, another Asura, and changed into a tremendously nasty creature. After extensive penance on behalf of Lord Brahma, Naraka received the blessing that only his mother could kill him.
Narakasura once conquered all of the earth's kingdoms, causing Swarga Loka and even Lord Indra to flee. He overthrew numerous leaders and imprisoned 16,100 women. When Satyabhama discovered Naraka's activities with women, she was outraged and pleaded with Lord Krishna for permission to battle Narakasura. In agreement, Lord Krishna rode Garuda to assault Pragjyotishpur with Satyabhama.
During the battle, Krishna killed Mura, Narakasura's leader. Thus, Krishna is referred to as "Murari" (Mura's enemy). Then, Devi Satyabhama, a manifestation of Bhudevi, killed Narakasura with an arrow.
The 16,100 women were set free when Lord Krishna defeated Narakasura. The 16,100 women, however, were all determined to take their own lives because they felt that society would not accept them. Lord Krishna wedded them to redeem their dignity and elevate them to the status of queens in society.
Although this story might seem strange to modern ears, it's crucial to comprehend the historical and cultural setting in which it occurred. King wives were widespread in antiquity, and marriage was frequently considered a means of forming alliances and bringing about peace between countries. In addition, Lord Krishna's proposal of marriage to the princesses was an effort to guarantee their safety and prevent social rejection as "damaged goods" as a result of their imprisonment.
Furthermore, the tale of Lord Krishna and his 16108 wives is one of love and devotion rather than lust or polygamy. Lord Krishna ensured the happiness and well-being of all of his wives by treating them all with respect and love. He had several wives, but he was faithful and loyal to all of them, and he treated them equally.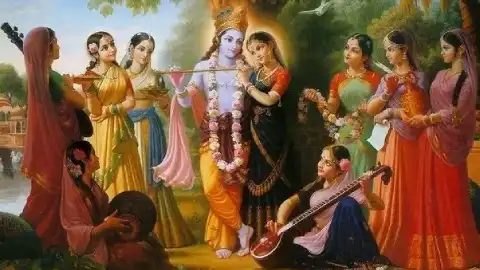 In addition, the tale of Lord Krishna and his 16108 wives serves as a metaphor for the desire of the human soul to be united with God. Lord Krishna is frequently portrayed as the ideal lover who can satiate all of a person's heart's wishes. In this way, the union of the human soul with the divine, a fundamental idea in Hindu philosophy and spirituality, is symbolized by his marriage to the 16108 princesses.
Bottom Line:
For years, people have been enthralled by the wonderful legend of Lord Krishna and his 16108 wives. To fully grasp its deeper spiritual value, it is vital to understand it in its historical and cultural context, even though it may appear strange and even controversial by contemporary standards. Even now, people are still motivated by Lord Krishna's marriage to the princesses as a sign of his devotion, love, and compassion.