In an era where established markets are saturated, entering new markets has become crucial for organizations to sustain growth. However, expanding into international markets poses significant challenges and risks. This article highlights six common pitfalls associated with new market entry and provides insights on how to avoid them.
Striking the Right Balance between Speed and Caution
When entering new markets, it is essential to find the right tempo. While some regions may value quick deal closure, others, like Japan, prioritize a slower approach. Rushing into agreements without due diligence can lead to failed deals and damage a brand's reputation. Patience becomes a valuable virtue, particularly in Japan, where building trust and long-term relationships are critical.
Navigating Unstable Political Landscapes
Entering markets with unstable political environments can be challenging. Relying on local political support is often crucial for success, yet political landscapes can change rapidly. Companies must be prepared to adapt when political backers exit the scene. An example is Dell's experience in Brazil, where a change in the state governor jeopardized their promised incentives. Dell successfully maneuvered the situation by highlighting their positive societal impact and securing the incentives.
Ethical Dilemmas in Cross-Border Business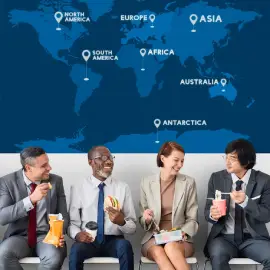 Navigating ethical differences across borders is a significant challenge. Companies may face situations where bribes are demanded to secure contracts, forcing them to make difficult choices. Maintaining ethical integrity while pursuing business opportunities is essential. One flexible solution is to offer equivalent investments in local initiatives rather than participating in corrupt practices. Transparency and ensuring the benefit extends to the community can help strike the right ethical balance.
Tailoring Products to Local Markets
Product decisions play a vital role in market entry success. Each market has its unique characteristics, and a one-size-fits-all approach rarely works. For instance, in emerging markets, telecom companies have outperformed Western multinationals by offering flexible and affordable options to customers, allowing them to purchase services as needed. Understanding local needs and adapting product offerings accordingly is crucial for sustained success.
Embracing the Power of Historical Context
A deep understanding of a market's history is fundamental to navigating its culture and dynamics effectively. Being aware of historical events, power shifts, and societal values helps businesses build meaningful connections. Failure to acknowledge the historical context can lead to missteps and negative consequences. Managers operating in the Middle East, for example, should be well-versed in the region's history and cultural sensitivities.
Failing to Listen to the Market
The most critical pitfall is disregarding the voices of the people within the target market. Understanding their values, preferences, and traditions is paramount. The key to success lies in active listening and genuine engagement. It is essential to involve the local community, comprehend their needs, and co-create solutions that resonate with them. The Peace Corps experience serves as a valuable lesson, emphasizing the importance of listening and engaging with the community to establish trust and meaningful connections.
So, entering new markets offers tremendous growth opportunities for organizations, but it comes with inherent challenges. By avoiding these six common pitfalls and adopting a thoughtful approach that considers local dynamics, cultural nuances, and ethical considerations, businesses can increase their chances of success. Navigating new markets requires careful planning, adaptability, and a commitment to building long-term relationships based on mutual understanding and respect.
Entering new markets may be a challenging endeavor, but the rewards that await those who approach it with strategic foresight and adaptability are immense. As a business person, it is crucial to acknowledge the risks involved in expanding into uncharted territories, but it is equally important to recognize the tremendous opportunities that lie within.
First and foremost, venturing into new markets allows for continued growth and the potential to tap into previously untapped customer bases. As established markets become saturated, reaching new customers becomes increasingly difficult. By exploring new territories, businesses can access fresh demographics, diverse consumer preferences, and emerging trends that can rejuvenate their growth trajectory. The ability to expand and diversify customer reach is a powerful advantage, providing a competitive edge and safeguarding against overreliance on a single market.
Moreover, entering new markets fuels innovation and fosters organizational learning. Each market presents its own unique set of challenges, customer behaviors, and cultural nuances. By immersing oneself in different environments, businesses gain valuable insights, foster creativity, and stimulate the development of innovative solutions. The process of adapting products, services, and strategies to meet the needs of diverse markets enhances agility, promotes organizational resilience, and keeps businesses at the forefront of change.
Beyond these tangible benefits, entering new markets offers immense personal and professional growth opportunities. Successfully navigating uncharted territories requires a mindset of curiosity, adaptability, and the willingness to embrace uncertainty. It pushes entrepreneurs and business leaders to expand their horizons, step outside their comfort zones, and develop new skills. It challenges conventional thinking, encourages cultural intelligence, and cultivates a global mindset that transcends borders. The experiences gained from venturing into new markets not only strengthen individual capabilities but also enhance the overall organizational knowledge base, positioning businesses for long-term success in an interconnected world.
To enter new markets successfully, it is crucial to approach risk with calculated measures. Conducting thorough market research, understanding local regulations, and identifying potential challenges are key preparatory steps. Building strategic partnerships with local entities can provide invaluable support, access to networks, and deeper insights into the target market. Employing a flexible and adaptive approach, where iteration and course correction are embraced, allows businesses to learn from initial experiences and continuously refine their strategies. Furthermore, fostering a culture of open communication, where feedback from local stakeholders is actively sought and valued, enables businesses to make informed decisions and tailor their offerings to specific market needs.
It is important to recognize that while risks exist, not taking calculated risks can lead to missed opportunities and stagnation. By weighing the potential rewards against the risks, businesses can make informed decisions that align with their growth objectives. Entering new markets should be seen as an exciting journey of exploration, growth, and transformation, rather than a daunting endeavor. With the right mindset, meticulous planning, and a willingness to learn from both successes and setbacks, businesses can position themselves for sustainable success in an ever-evolving global marketplace.
In conclusion, entering new markets holds immense potential for businesses seeking continued growth and competitive advantage. By embracing the rewards while carefully managing the associated risks, entrepreneurs and business leaders can unlock new opportunities, foster innovation, and expand their horizons. The journey may be challenging, but the path to success lies in perseverance, adaptability, and a steadfast commitment to understanding and meeting the needs of diverse markets. So, dare to embark on this exciting venture, and let the world become your canvas for growth and prosperity.