Unveiling the Potential of Psychedelics in Mental Health Treatment
In recent times, the debate surrounding the use of psychedelics, such as LSD and psilocybin (the key ingredient in magic mushrooms), as potential therapies for mental health disorders has gained momentum. On July 1, 2023, Australia took a groundbreaking step by legalizing the use of psychedelics in therapy, making it the first country to do so at a national level. Clinical trials for assisted therapy sessions using psychedelics, particularly psilocybin for treatment-resistant depression and MDMA (commonly known as ecstasy) for post-traumatic stress disorder (PTSD), were also approved earlier this year. This bold move has sparked both enthusiasm and caution among medical experts and patients.
Across the globe, mental health challenges have become increasingly prevalent, with rising rates of major depression and generalized anxiety disorders. Alarming figures show that around 30 percent of individuals with major depression do not respond to available pharmacological therapies, leaving a significant unmet need for more effective and long-lasting treatments.
The interest in psychedelics in the context of mental health therapy can be attributed, in part, to the emergence of ketamine. Although colloquially known as "special K," ketamine has demonstrated mood-regulating properties at low doses, leading to rapid effects, unlike conventional medications, which may take weeks to show noticeable improvements. This breakthrough has opened up new possibilities for exploring the therapeutic potential of other so-called party drugs.
One of the most prominent advocates of psychedelic therapy is none other than Prince Harry, the Duke of Sussex. In his autobiography, "Spare the Duke of Sussex," he details how he tried experimental treatments, such as Ayahuasca and psilocybin, to address his mental health and trauma. He praises the positive impact of psychedelic therapy when administered by trained professionals, highlighting its potential as a medicine.
While some are quick to label MDMA as a party drug, its recent success in trials for terminal patients with end-of-life anxiety and depression earned it breakthrough status for PTSD treatment from the FDA. These breakthroughs have prompted researchers and policymakers to explore the use of low-dose Zoloft and LSD for generalized anxiety, PTSD, and major depression.
However, concerns about unrestricted use and potential negative effects still loom large. Currently, these substances are listed as schedule 1 compounds, banned for recreational use but allowed under controlled conditions for psychiatric patients in some countries. The field demands further research to better understand how these drugs work, their effectiveness, and their interactions with individuals, taking genetic factors into account.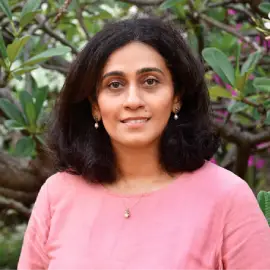 Renowned scientist Vidita Vaidya, the chairperson for biological sciences at the Tata Institute of Fundamental Research (TIFR) and winner of the Infosys Prize 2022 for Life Sciences, recently delivered a lecture titled "Serotonergic Psychedelics: 'Mushroom' for Discussion" in Mumbai. She traced the historical use of psychedelics in ancient indigenous ceremonies and explored the modern-day debate around their therapeutic potential for anxiety, trauma, and mental health issues.
Forbes India had the opportunity to interview Dr. Vaidya to delve into the potential of psychedelics in India's context. She stressed the need for India to conduct its own clinical trials to understand the effects of these drugs better. With mental health still carrying a degree of taboo in Indian society, crafting tailored policies that suit the Indian landscape is essential.
Australia, the United States, and several European countries have already embarked on clinical trials involving psychedelics. In South America, psilocybin and Ayahuasca are part of traditional indigenous ceremonies, ingrained in their cultural heritage. While India currently utilizes ketamine, psychedelic substances remain unexplored for therapeutic purposes.
Dr. Vaidya emphasized that India needs to establish a high-level committee comprising practicing psychiatrist clinicians and preclinical researchers. This committee would be tasked with crafting a strategic plan to promote preclinical and clinical research within India's unique context. By doing so, India can pave its path in navigating psychiatric disorders over the next decade and beyond, ensuring that mental health requirements are met effectively.
To strike a balance between recreational and therapeutic use, legislation needs to distinguish between the two realms. Strict regulations should govern recreational use while allowing controlled, supervised usage in clinical trials under expert guidance for treatment-resistant individuals facing severe conditions like major depression, suicidal ideation, and PTSD. India's expertise in psychiatry should be harnessed to ensure safe and ethical research.
In conclusion, the resurgence of interest in psychedelic therapies, particularly in treating mental health disorders, presents both challenges and opportunities. As Australia leads the way by legalizing psychedelics for therapy, other countries, including India, have a chance to contribute to this promising field. Scientists like Dr. Vidita Vaidya advocate for India to embark on its own clinical trials, paving the way for innovative and culturally sensitive mental health treatments. By understanding the unique potential of shrooms and other psychedelics, India can pave the way for groundbreaking developments in mental health care for its population, and the world may well follow suit.
In this exciting time of exploration, collaboration between researchers, practitioners, and policymakers holds the key to unlocking the true potential of shrooms as therapeutic tools. As regulations and research expand, the world of mental health treatments may be forever transformed.