The Exobiology Extant Life Surveyor (EELS), developed by NASA's Jet Propulsion Laboratory, will go to Enceladus, one of Saturn's 83 moons known for having the whitest and most reflective ice surface in the solar system. More investigation is being done to determine whether there is life in the liquid ocean that is thought to exist beneath the ice.
EELS is described as a "snake-like, self-propelled robot" by the Jet Propulsion Lab. It is made up of segments with "first-of-a-kind rotating propulsion units" that let it grip objects and move underwater.The mechanical snake could be able to slither through openings in the surface of Enceladus and into the sea below.
The roughly 16-foot-tall, 230-pound robot is going through intensive testing in various environments to make sure it is ready for the job. The "head" of the snake will be equipped with tools that let EELS capture the surroundings in 3D and provide operators with live footage. While this is going on, its body will be able to carry and deploy a scientific payload that might help researchers gauge subterranean pressure, electrical conductivity, and temperature.
It underwent testing last autumn at the Athabasca Glacier of Canada's Jasper National Park.
The EELS 1.0 configuration, which measures 4 meters in length and weighs around 100 kilograms, is the most recent. Ten identical segments make up the device, and screw threads are used to spin them to generate traction, grip, and propulsion.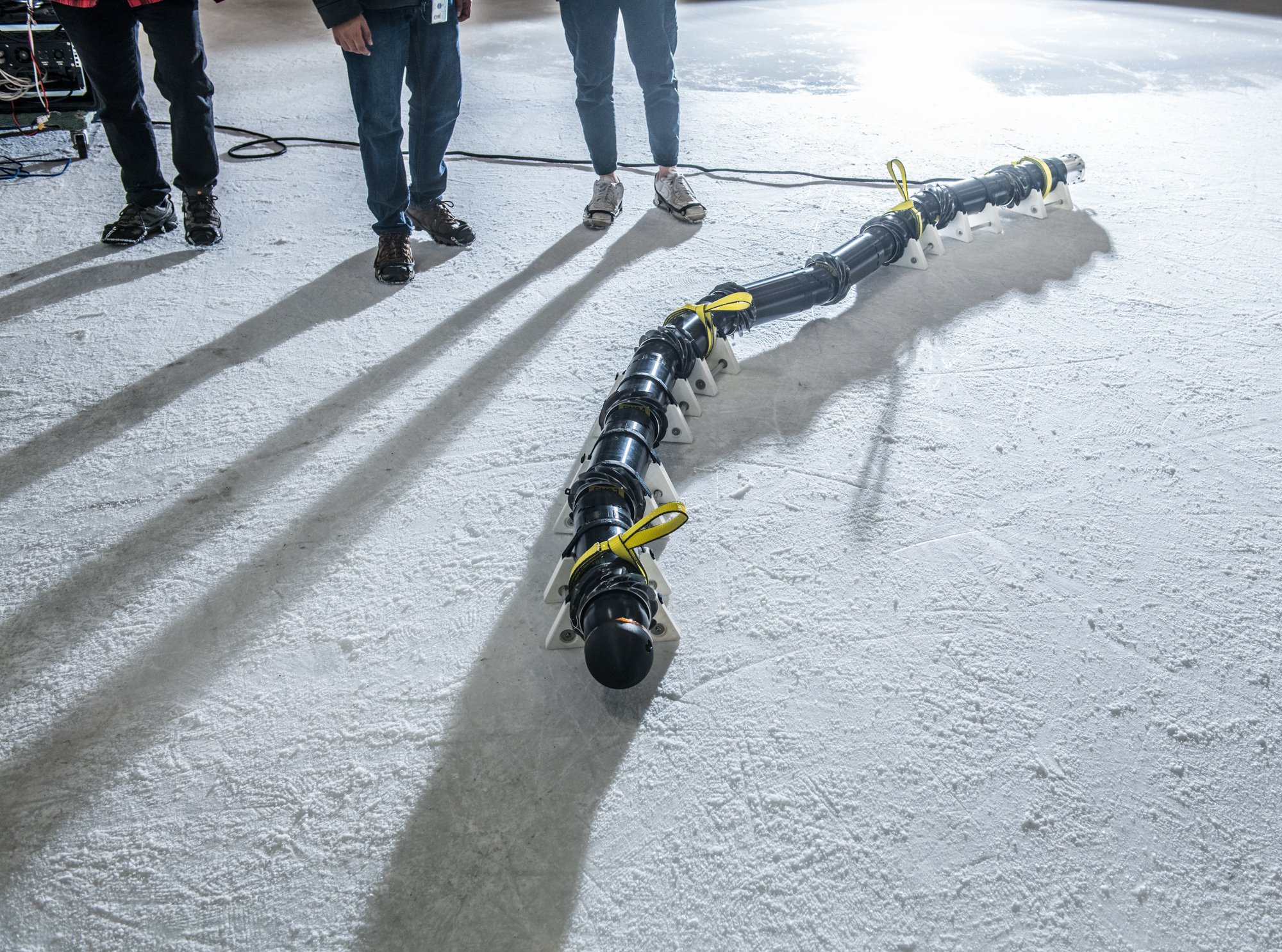 The robot has previously been put through its paces in chilly, snowy, and arid environments. This includes JPL's Mars Yard, which is referred regarded as a "robot playground" and is located at a ski resort to mimic Martian terrain.
The robot must be autonomous because of the significant communications delay between Earth and other planets and celestial bodies in deep space. For example, it may take 83 minutes for a radio broadcast to go from Earth to Saturn.
The EELS concept should be finished by the autumn of 2024, although no launch date has been determined. In a previous year, Deputy Project Manager for EELS Rachel Etheredge said, "We are early in the project, but it is achievable in our lifetime." Our shared enthusiasm for the concept as well as the potential scientific data that EELS can give are the driving forces behind this ambitious alliance.
When it is ready to launch, EELS would take about 12 years to reach the Saturn moon, but once it penetrates a vent in the ice crust, researchers think the robot snake would arrive at the water in just a few days.
The development of the EELS system, according to NASA, was done to "explore internal terrain structures, assess habitability, and ultimately search for evidence of life." It is designed to be adaptable enough to flow across liquids, constrained labyrinth environments, and fluidized media.
The robot snake, according to NASA, may aid in the study of aquatic ecosystems by allowing "deeper exploration into areas that were previously unattainable."