The genetic material in humans and the majority of other species is called DNA (deoxyribonucleic acid). The four chemical bases/letters that make up this compound are adenine (A), guanine (G), cytosine (C), and thymine (T). There are more than 3 million DNA letters in the human genome. To form genes, these letters are organized in different sequences and lengths.
Our chromosomes, which are tiny thread-like structures, house our genes and are found inside the nucleus of our cells.
How are hereditary diseases passed down?
The majority of the time, "spelling errors" or alterations (mutations) in a single gene cause a genetic illness. These alterations may either be "de novo" or inherited from the parent(s). One of the 22 autosomes, the X chromosome, or even a component known as the mitochondria may contain the defective gene. Most of the cells in our body include mitochondria, which are tiny structures that provide the energy necessary for the cells to operate correctly (much like a battery).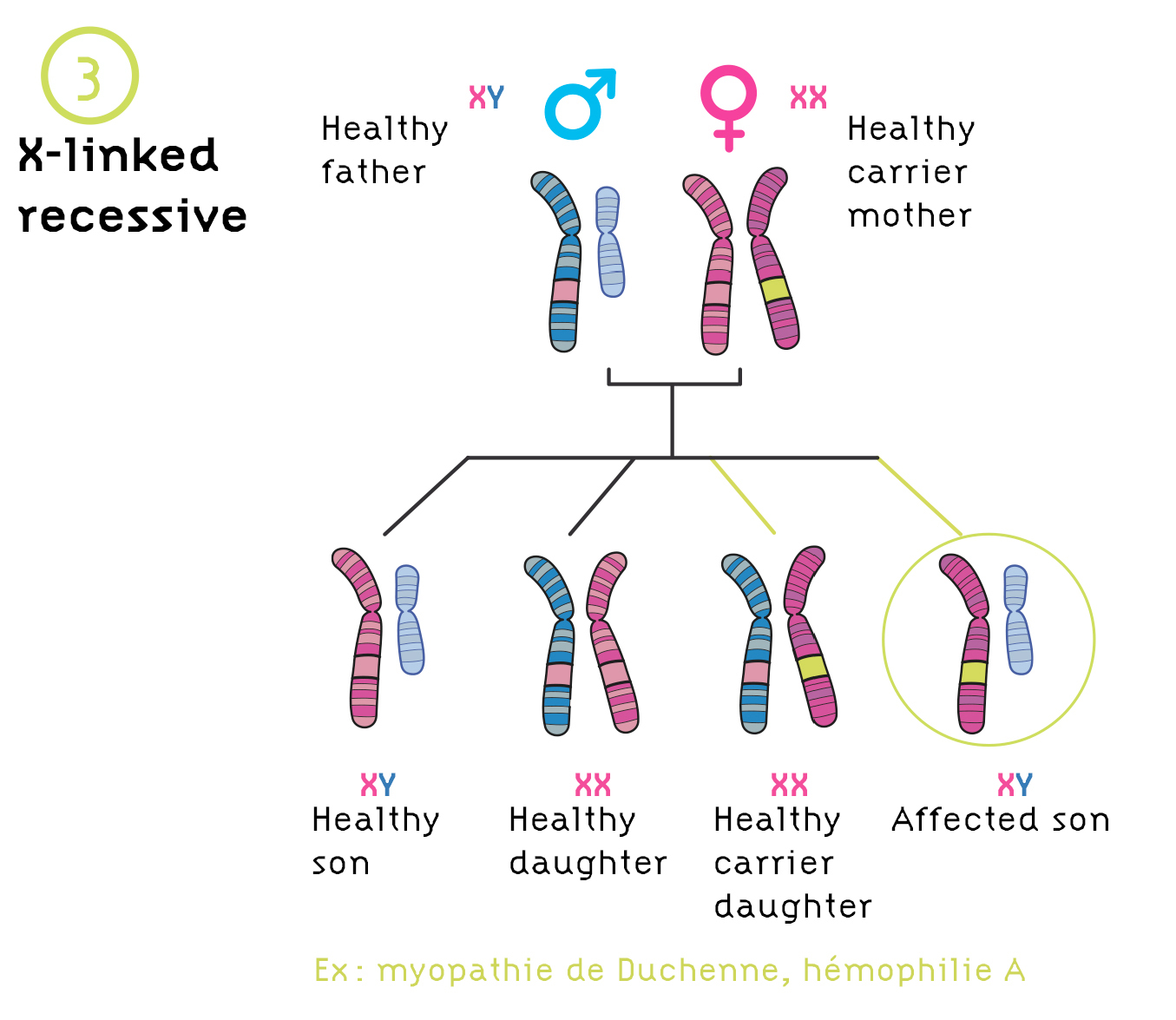 Depending on where the defective gene is situated and how many copies of the faulty gene are needed to produce disease, genetic disorders can be inherited in various ways. They consist of:
Autosomal Dominant Inheritance
Just one copy of the defective gene is necessary to induce illness in autosomal dominant disorders since it is located on one of the autosomes (chromosomes 1-22). Both parents can pass this down to their children.
A person with the disorder has a 50% probability of passing on their normal gene to their offspring and a 50% chance of doing so. Whether a child is a boy or a girl, the danger remains the same. Every pregnancy goes through this unpredictable process.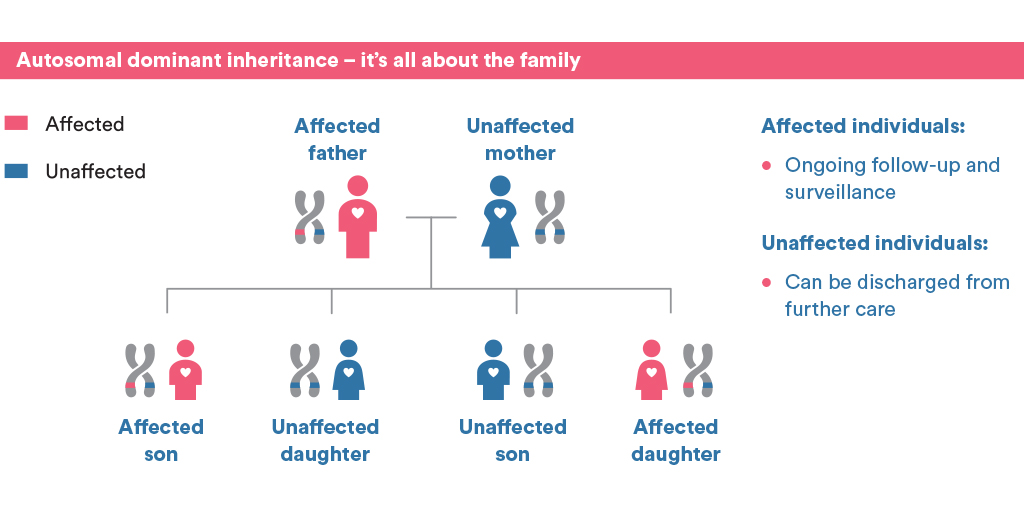 Conditions inherited in this way can occasionally have uneven expressivity and partial penetrance. Variable expressivity describes a range in intensity from very low to extremely severe, whereas incomplete penetrance describes a situation in which some individuals with the defective gene exhibit symptoms but others with the same genetic mutation do not.
Autosomal Recessive Inheritance
Two copies of the defective gene, one from each parent, are needed to induce illness in autosomal recessive diseases. Heterozygote or a carrier is a parent who has one normal gene copy and one flawed gene copy; they often do not exhibit any symptoms. Often, carriers are unaware of their status until they have a kid who is afflicted or has had genetic testing done. Both parents would have to be carriers of the same gene mutation for a kid to be impacted.
If both parents carry the gene (which is the most common case):
One in four children had a 25% risk of being impacted.
One in four chances (25%) for a kid to be unaffected and not a carrier
A kid has a 50% probability (one in two) of becoming an unaffected carrier.
Recessive X-linked inheritance
In such cases, the defective gene is found on the X chromosome. A girl who is a heterozygote carrier of a defective gene on one of her two X chromosomes is often asymptomatic. This is because females and men both only have one functioning copy of the X chromosome in each cell thanks to a process known as X-inactivation. The X chromosome that was inherited from the mother may be active in certain cells, while the active X chromosome that was inherited from the father may be active in other cells due to the random nature of X-inactivation.
On the other hand, a guy who has a defective gene on his single X chromosome is referred to as "hemizygous" and will exhibit symptoms since he lacks an additional X chromosome to make up for it. In general, X-linked recessive disorders exclusively affect men, however non-random X-inactivation might cause a small percentage of female carriers to be afflicted as well (typically to a lower level).
Each boy has a 50% probability of being impacted if the mother is a carrier and the father is in good health.
There is a 50% probability that each daughter will carry the same gene as the mother.
Dominant X-linked inheritance
X-linked recessive inheritance is less frequent.
Because just one misaligned gene copy on the X chromosome is necessary to induce illness, both men and women can be afflicted.
Because of unpredictable X-inactivation, females are often less severely impacted than men.
The disease can be passed on to daughters as well as boys by affected females.
The ailment will still only be passed on by affected males to their daughters, not their sons.
Molecular inheritance
Our cells' mitochondria, which provide energy, contain their DNA and 37 genes of their own. Mutations in mitochondrial genes are transmitted from the mother to the following generation (maternal inheritance). This is so that the growing embryo may only get mitochondria from the egg cells and not the sperm cells. Through mitochondrial inheritance, both sexes may be impacted.
Conclusion
:
Genes are the fundamental structural and operational components of heredity. More than 20,000 genes make up our bodies, some of which urge cells to produce certain proteins that regulate the structure and operation of our bodies. We are still attempting to understand the roles of the majority of genes, which do not code for any proteins.