Cricket, often referred to as a religion in India, has long been dominated by men. However, in recent years, there has been a seismic shift in the landscape of Indian cricket, with women breaking through barriers and making their mark on the sport. The emergence and rising popularity of women's cricket in India are nothing short of extraordinary, and it's a journey worth celebrating.
---
A Historical Glimpse
The roots of women's cricket in India trace back to the early 1970s when the first-ever women's cricket match was played in 1973 between India and England. This match marked the inception of a new era, albeit a challenging one. In its early years, women's cricket in India faced a lack of recognition, support, and essential infrastructure.
It wasn't until 2006 that a pivotal moment changed the course of women's cricket in India. The Women's Cricket Association of India (WCAI) merged with the Board of Control for Cricket in India (BCCI), finally placing women's cricket on the same administrative pedestal as men's cricket. This merger breathed new life into the sport, and its growth has been unstoppable ever since.
Growth and Evolution
Since its merger with the BCCI, women's cricket in India has experienced a remarkable transformation. The BCCI has been proactive in promoting the sport, organizing domestic tournaments, upgrading facilities, and offering central contracts to national team players. These steps have provided a platform for aspiring female cricketers to showcase their skills.
One notable addition to the Indian women's cricket calendar was the Senior Women's T20 Challenger Trophy launched in 2018. This tournament offered India's top women cricketers a stage to compete in the exciting T20 format, further igniting interest in the sport.
Betting on Women's Cricket
In parallel with the sport's growth, women's cricket in India has become a focal point for fans and bettors alike. Betting on women's cricket matches has gained immense popularity. Online platforms now offer tailored markets, allowing enthusiasts to predict match outcomes, top run-scorers, and wicket-takers. This surge in interest has not only added excitement to the sport but has also fueled its visibility and development.
Key Milestones
Indian women's cricket has seen its fair share of milestones:
First Test Match (1976):
India played its inaugural Test match against West Indies, setting the stage for future successes.
First ODI World Cup Appearance (1978):
Despite not progressing beyond the group stage, this marked the beginning of India's journey in the Women's ODI World Cup.
2005 Women's Cricket World Cup:
Led by Mithali Raj, the team reached the finals, showcasing India's potential on the global stage.
2017 Women's Cricket World Cup:
A turning point as India reached the finals, captivating the nation's imagination and garnering unprecedented support.
2018 ICC Women's World T20:
The Indian team's semi-final appearance cemented their status as a force in the T20 format.
Media, Technology, and Sponsorship
The growing popularity of women's cricket in India can be attributed, in part, to increased media coverage, technological advancements, and sponsorship deals. Media outlets now recognize and celebrate the achievements of women cricketers, providing them with much-needed visibility.
The rise of digital platforms and live streaming services has made it easier for fans to follow women's cricket matches, creating a larger and more engaged audience. Social media has also played a crucial role, allowing players to connect with fans and inspire future generations.
Sponsorship deals have provided vital financial support to women's cricket in India. Leading brands and companies now associate themselves with women cricketers, promoting the sport and encouraging young girls to pursue cricket as a career.
Role Models
Indian women's cricket has produced exceptional role models who have inspired countless young girls:
Mithali Raj:
The captain of the Indian women's ODI team and the highest run-scorer in women's international cricket.
Jhulan Goswami:
The highest wicket-taker in women's ODIs, known for her exceptional bowling skills.
Harmanpreet Kaur:
The captain of the Indian women's T20 team, celebrated for her aggressive batting style and match-winning performances.
Smriti Mandhana:A stylish left-handed opening batter, recipient of several awards including the Arjuna Award and ICC Women's Cricketer of the Year.
Present Indian Women Cricket Stars
The current Indian women's cricket team boasts a talented roster of players who are setting the cricketing world on fire. Leading the charge is the indomitable Harmanpreet Kaur, known for her aggressive batting style, leads the T20 team and is celebrated for her match-winning performances. The stylish left-handed opening batter, Smriti Mandhana, enchants fans with her elegant stroke play. Deepti Sharma, a rising star in women's cricket, impresses with her all-round abilities. These are just a few of the remarkable women who are carrying the torch for Indian women's cricket, inspiring generations to come.
The Bright Future Ahead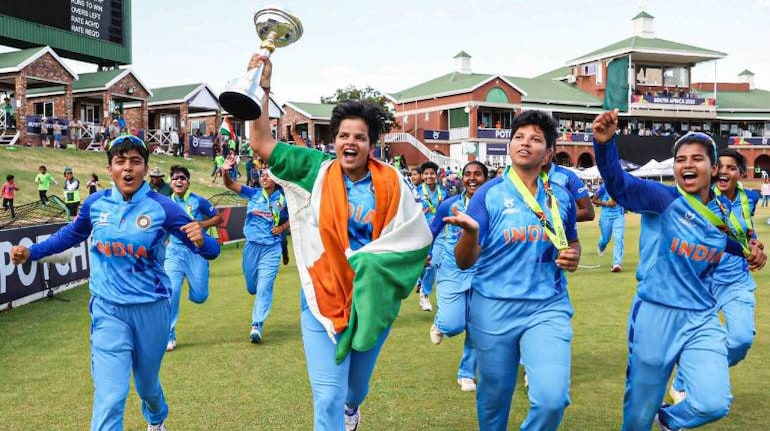 The future of women's cricket in India is undeniably bright. More girls are taking up the sport, and talented players are emerging from the domestic circuit. The BCCI's unwavering support, combined with growing media coverage and sponsorship deals, is set to fuel the sport's growth further.
One exciting prospect is the Women's Indian Premier League (WIPL), a franchise-based T20 tournament similar to the men's IPL. This league would provide a platform for budding women cricketers to showcase their talents and help popularize women's cricket among the masses.
---
In conclusion, the rise of women's cricket in India is a remarkable story of determination, talent, and passion. From its humble beginnings to the grand stages of international cricket, women's cricket in India has evolved into a force to be reckoned with. The increasing popularity, bolstered by media coverage, technology, and sponsorships, is a testament to the changing landscape of cricket in India. As the sport continues to grow and inspire, women's cricket in India is destined to scale new heights, enriching the country's cricketing legacy. So, let's cheer for these incredible athletes as they break boundaries and make history in the world of cricket.