Empowering Defense and Agriculture Sectors Through Innovation and Partnerships
In the realm of disruptive technologies, one entrepreneur stood firm in his conviction that emerging fields would revolutionize industries. In the year 2015, Agnishwar Jayaprakash embarked on an entrepreneurial journey fueled by his visionary outlook on the untapped potential of drone manufacturing. Fast forward to the present day, and Garuda Aerospace has emerged as a formidable player in the industry, proudly serving a vast clientele of over 750 satisfied customers. With an extensive range of 30+ cutting-edge drone models at their disposal, the company has firmly established its reputation as a leader in the field. Operating across 84 cities in India, the company offers an impressive range of 50 services. This remarkable success story has been further catalyzed by the recent liberalization of regulations in the form of the Drone Rules of 2021, propelling the industry toward unprecedented growth. Garuda Aerospace has solidified its position as an industry leader, thanks to its robust revenue streams derived from the defense and agriculture sectors.
Revolutionizing Defense and Agriculture
Garuda Aerospace experienced a pivotal moment, not only for its own trajectory but also for the entire sector, with the introduction of the revolutionary Drone Rules. The company navigated through archaic regulations and limited funding to emerge as a frontrunner in the drone industry. Defense and agriculture have been pivotal in driving the company's exceptional growth. Garuda Aerospace has partnered with Naini Aerospace Engineering Ltd. (NAeL), a HAL subsidiary, to manufacture advanced precision drones. This collaboration aims to produce around 5,000 drones in the first year, with strong government support. By teaming up with renowned industry leaders like Lockheed Martin Canada CDL and Tamil Nadu Industrial Development Corporation (TIDCO), Garuda Aerospace has solidified its position as a provider of cutting-edge Uncrewed Aerial Systems software solutions for defense and commercial applications. Collaborations with BEML and local suppliers showcase the company's commitment to reducing reliance on foreign imports, bolstering the domestic drone manufacturing ecosystem.
Unleashing the Potential: Collaboration with Cognizant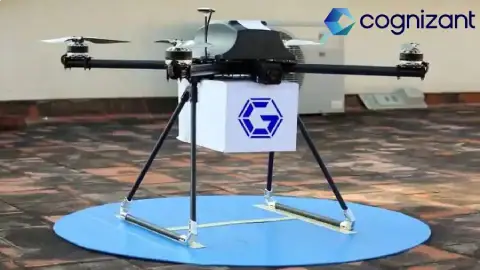 Garuda Aerospace extended its reach through a strategic collaboration with Cognizant, a renowned global technology services leader. Together, they embarked on a mission to provide all-encompassing drone-based management and monitoring solutions, catering to diverse sectors. The rapid adoption of drone services has ushered in exponential growth, delivering substantial value to industries spanning agriculture, manufacturing, energy, utilities, retail, and logistics. By leveraging this partnership, Garuda Aerospace aims to enhance its capabilities and overall productivity, creating a ripple effect of innovation across sectors.
Empowering Farmers with the Garuda Kisan Drone
Garuda Aerospace has experienced tremendous success in the agriculture sector. Its flagship product, the Garuda Kisan Drone, has proven to be a game-changer for farmers. With vast expanses of farmland requiring frequent spraying, the traditional methods incurred exorbitant costs. However, Garuda Aerospace's drones have revolutionized this process. By providing field inspection, large-scale mapping, and precise application of fertilizers and pesticides, the company has witnessed a remarkable 23–27% increase in food crop productivity. Notably, the adoption of drones has resulted in a drastic reduction of up to 70 percent in pesticide usage and 80 percent in water consumption. Furthermore, government initiatives, including agri-drone subsidies and drone loans for farmers, are poised to expedite the impact on the ground. Garuda Aerospace has already partnered with the Union Bank of India to provide drone loans under the Agriculture Infrastructure Fund (AIF), further empowering farmers and propelling agricultural innovation.
Empowering the Youth and Global Expansion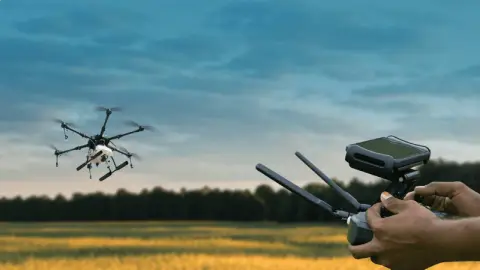 Drones have brought transformative solutions to the agricultural landscape and have also given the younger generation a newfound sense of dignity in their work. With drone-based solutions, the next-generation farmers are embracing their roles as technocrats, garnering respect and propelling a paradigm shift in the agricultural sector. Garuda Aerospace has been witnessing increasing demand, not just within India but also from international markets such as Malaysia, South America, and Gulf countries. Capitalizing on this momentum, the company aims to export 10,000 drones within the next 4 to 6 months, fostering India's prowess in the global drone market.
Scaling New Heights: Investments and Expansion
Garuda Aerospace recently secured $22 million in an early-stage funding round led by venture capital firm SphitiCap, elevating its valuation to an impressive $250 million. With this fresh infusion of capital, the company aspires to expand its operations further, focusing on advanced drone solutions for the armed forces and the aerospace sector through global collaborations. The endorsement of the company by prominent figures like MS Dhoni, who invested an undisclosed amount and became its brand ambassador, further highlights its potential for growth and impact.
Propelling Growth: Revenue and Future Prospects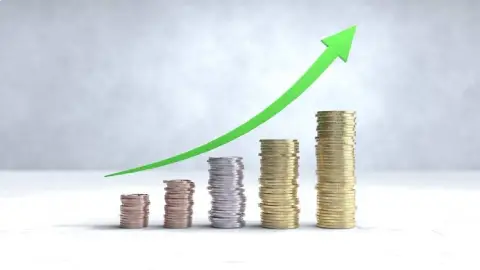 During its journey, Garuda Aerospace has achieved significant milestones, propelling the company to new heights. In FY22, the company not only turned profitable but also reported a revenue of Rs 15 crore. Buoyed by this success, Jayaprakash, the visionary leader behind Garuda Aerospace, envisions a remarkable growth trajectory. He expects the revenue to surge to Rs 47 crore in FY23 and soar even higher to an impressive range of Rs 800-1,000 crore by FY24. The company's revenue streams are well-balanced, with 55 percent attributed to the sale of drones and the remaining 45 percent generated through 'drone-as-a-service' offerings. With an ambitious plan to sell over 25,000 drones across diverse sectors in the next 18 months, Garuda Aerospace has positioned itself for exponential growth. The company's manufacturing facilities in Chennai and Haryana serve as the launchpads for realizing its ambitious goals.
Driving Employment Opportunities and Impact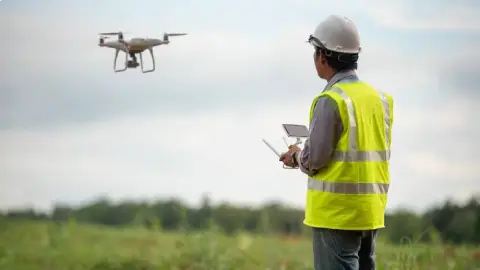 As Garuda Aerospace continues to ascend, the company remains committed to generating employment opportunities, especially in Tier II and III cities. The recent funding will be channeled towards skilling and training drone pilots, further bolstering the drone-tech ecosystem in India. Furthermore, Garuda Aerospace has set its sights on advancing its drones' payload capacities, integrating state-of-the-art sensors, infusing data analytics capabilities, and spearheading the development of cutting-edge technological solutions. With an extensive fleet of over 400 drones and a highly skilled team comprising 500 drone pilots, the company has forged strong partnerships with renowned clients such as TATA, Godrej, Adani, Reliance, Swiggy, SAIL, IOCL, and many others. By prioritizing comprehensive growth, Garuda Aerospace is committed to leaving an indelible mark on the drone-tech landscape in India, catalyzing profound transformations across the industry.
Looking Ahead: IPO and Future Endeavors
With a trailblazing journey thus far, Garuda Aerospace has set its sights on the next milestone—going public with its IPO. This ambitious move is poised to propel the company to new heights, fortifying its position as an industry leader and facilitating further innovation in the aerospace sector.
Garuda Aerospace's remarkable ascent stands as a testament to the vision, dedication, and innovation of Agnishwar Jayaprakash and his team. Through strategic partnerships, a diversified service portfolio, and unwavering commitment to excellence, the company has emerged as a pioneering force in the drone industry. By empowering the defense and agriculture sectors and expanding its horizons to encompass a range of industries, Garuda Aerospace is revolutionizing the landscape of unmanned aerial systems. As it continues to soar, the company's IPO beckons a promising future, poised to unlock new possibilities and shape the future of the aerospace industry.