The Global Gender Gap study from the World Economic Forum estimates that it will take another 108 years to achieve gender parity at the present rate of development. We all have a crucial role to play if we want to see greater gender equality in our lifetime and build more empowered workplaces for our children and grandkids.
Microaggressions and toxic work environments are still prevalent, which makes it challenging for certain individuals to be fully present at work and advance in their careers. What then can we do to address the issue? Here are 5 practical ideas:
Assessing and promoting equal pay
Everyone is aware of the gender wage disparity. This demonstrates that despite doing the same amount of labor as men, women get paid less. Women are still paid 81 cents for every dollar earned by males in 2020. This could or might not be true for your business. Opening up the necessary and difficult topic of wage fairness requires bravery. Make sure you are aware of any anomalies in your present compensation structure that could be in line with this national average by evaluating it.
Simply put, everyone should receive the same wage for doing the same job. Men and women should both be encouraged to pursue promotions. You can identify any patterns, conflicting regulations, or blatant prejudice by analyzing salary trends. You may take action to make compensation systems more progressive and representative of equal pay for equal labor by recognizing it.
When gender bias occurs, speak out against it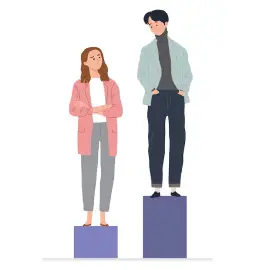 Gender inequity, bigotry, and microaggressions must be called up immediately, whether it's in a passing remark or a lunchtime joke. It's a method for raising awareness of the appearance and sound of gender prejudice. This does not entail criticizing subordinates or coworkers. It could be a chance to impart knowledge about the proper conduct in the job to someone else.
This does not imply that the work is simple. Even though it's sometimes embarrassing and uncomfortable for everyone involved, an organization is more likely to stop gender prejudice in the workplace the more it is exposed and discouraged, particularly by managers and leaders. Try to be upbeat and lighthearted. If the joke was offensive, try asking:
Why is that humorous? Do you believe that jokes will be enjoyed by both male and female audiences?
By making others consider the impact of their comments, you will powerfully demonstrate that insensitive jokes and microaggressions are not acceptable here.
Support Flexible Work Policies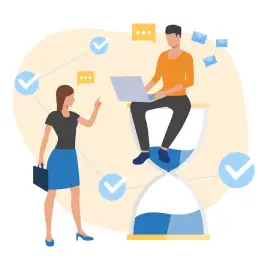 Every day, work takes place farther from the actual workplace. More than ever, the COVID-19 epidemic has emphasized the value and usefulness of remote labor. However, remote work isn't simply more secure; it may also reduce gender prejudice by letting both men and women plan their working hours around other obligations and from the place of their choosing.
This might imply more stable and predictable scheduling for businesses that use hourly or contingent workers, giving women more freedom to fit their schedules around their commitments in the real world. Flexibility and regulations that are family-friendly help workers preserve their independence and reliability, which boosts female workers' happiness and involvement.
Mentoring Programmes with a Kick
Sometimes, encouraging women in the workplace with a single comment or pat on the back is insufficient. Some people require more direction, brave criticism, and organizational insider knowledge to advance their careers and attain higher degrees of leadership.
According to research, mentorship programs help create a more diverse leadership pipeline. Through their strategic advocacy, abilities, and organizational expertise, they increase the visibility of minorities and women and assist them in scaling the professional jungle gym.
To achieve their next promotion or career move, women who are in successful mentoring relationships are paired with senior leaders or peers who can explain the actions and expertise required. These mentors don't need to be of the same gender. Men should mentor women since they still predominate in top leadership roles at Fortune 500 businesses all around the world. Modern mentoring, whether it takes the form of mentoring circles, flash mentoring, or high-potential mentoring, fosters a sense of community that may make women feel more connected and involved at work and in their personal lives.
We are making efforts to lessen and eradicate gender prejudice in the workplace, even if they may not always feel like significant advancements. We all need to play our part and work hard every day if we ever hope to achieve equity. Everyone should feel secure, fair, and empowered at work.