One significant change is the adoption of blended, flipped, and online learning approaches, all of which are enabled by video conferencing, in the majority of classrooms. This technology has several advantages as we approach a new era in education and can truly liven up your classroom. Here are some reasons why you ought to utilize this effective instrument in your classroom to its fullest.
What Is Video Conferencing?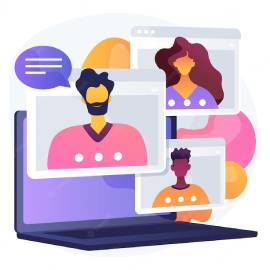 In education, video conferencing enables teachers to communicate with pupils wherever they may be. This enables real-time visual and audio interaction between professors and students. As educational institutions adjust to new technology and the evolving demands of both students and teachers, this tool is being used in education on an increasing basis.
The Value of Video Conferencing in the Classroom
It's never too late to realize the value and potential of video conferencing in education, regardless of your level of experience or how long you've been utilizing this technology.‌
Promotes cooperation
Student collaboration on group projects or assignments is made simple using video conferencing, which is one of its main benefits. We must look for chances to let students collaborate and promote dialogue to make lessons engaging and interactive. If the entire class consists of a lecture, they may quickly lose interest. Instead, encourage students to work together on a project by using tools like breakout rooms or small group discussions.
Video conferencing may be utilized by teachers to swiftly exchange ideas and information in addition to student collaboration. This could take the shape of a conference call, webinar, or informal conversation. Beyond meeting with educators at your school, you may connect with educators in various locations to further your research.
Aids in the creation of flipped classrooms
Students may participate in and take responsibility for their learning in flipped classrooms like never before. This strategy has been developed with the use of technology, with video conferencing being a key component.
Prior to an assignment, a project, or an in-person session, students can watch a pre-recorded course on their own. Students may study the content at their own speed and in whichever way works best for them to get ready for the future. This helps teachers make the most of class time by reducing the amount of time that they need to spend talking and presenting. Your students could begin concentrating on implementing their new information instead.
Content Sharing Is Simple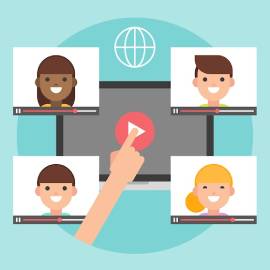 The ability to exchange educational resources and files with your students to enhance your lectures is a fantastic tool to take advantage of when utilizing video conferencing in education. With video conferencing software, teachers and students may communicate files and multimedia in real-time while still having the ability to post supplemental resources to an online portal before or after class.
Although this function may be helpful for teachers, it may also be beneficial for our students. Group work and projects are made possible while studying remotely because of the capacity to swiftly and effectively share resources.
Ties students and classrooms together worldwide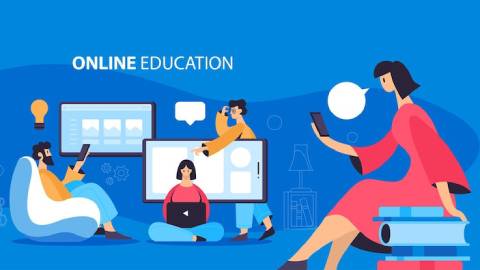 A digital classroom has the advantage of being constantly accessible. We provide them the opportunity to communicate openly with us and their peers by using a video conferencing service. Some students may feel isolated as a result of distance learning. Consider collaborating on a project or lesson with students from a different school. Invite kids from a different city or even country to work with your class on a project that promotes connection, communication, and cultural understanding. Because the digital classroom has no limits, using video conferencing solutions aids in improving communication between instructors and students.
You could wish to concentrate on a cultural topic that kids might be interested in when developing a lesson or project of this nature. These could include subjects like literature, history , or the arts. To understand more about a subject they might not be very knowledgeable about otherwise, your students can interview and speak with students from different cultures.
The Outside World Can Be Introduced into the Classroom
The possibilities for the virtual classroom are endless, as was previously said. Another way that video conferencing in education may make class time more enjoyable is by linking students to the outside world. We want to develop relevant, fascinating courses for our pupils.
Why not, for instance, arrange a virtual field trip for your students? A virtual field trip gives your kids the opportunity to explore and learn while taking part in something new and interesting, as opposed to typical school outings that may be expensive or restricted to an area close to your school. Virtual tours are available for many landmarks and museums, so you may explore them without ever getting up from your chair.
You may also include your pupils by inviting a guest speaker. This speaker can be an authority on the subject you're studying who can provide your pupils with first-hand information and stories. It's simple and handy for everyone to connect your visit with your classroom via video conferencing.